The town of Buea has soo many fancy date locations. Are you looking forward to having a great time with a loved one and are in Buea, Cameroon? Below are some places put together for you.Taking budget, date type, location and so much more in to account. Have a great read.
Located at Bolifamba,  Mile 16, WDC Aparthotel is a 5-star luxurious hotel with an exquisite restaurant where one could have a classic date. It is well suited with modern architecture and furniture, with a blend of authentic flavors and delectable meals meticulously crafted with class. It is an expensive restaurant and therefore for high-budgeted outings.
Price of food and drinks ranges from 5000 FRS and above, Opens round the clock and is suitable for classic dates.
Iya is an award-winning fine dining restaurant that pays homage to Cameroon's rich & diverse gastronomy and cultural heritage. It is situated at Bongo Square, IYA Buea and has dishes that are both modern and comforting.
It equally has a peaceful and serene atmosphere good for quiet dates and beautiful moments. Its traditional décor makes it even more appetizing, giving a blend of Cameroon heritage and modernity. Suitable for classic low-budget dates, all weather types, and opens from Tuesdays to Saturdays, 10am till 10pm. Iya is just the right match for you to enjoy your date in a serene quiet atmosphere. 😊You can get a plate of food here for as low as 3000frs.
Situated in the heart of Molyko, at solidarity street,Burj Khalifa is a five-foot classic building. It operates every day from morning to night, and is enclosed in a well-secured building.
Suitable for classic and boisterous dates with low/high budget in any weather condition.
Has different varieties of meals and wine/champagne of all class. Prices of meals ranges from 3500 FRS and above while drinks from 10 000FRS and above. Burjkhalifa got you covered for a boisterous classic date.😉
A restaurant, which is classy/casual. Has a wide range of foreign delicacies, including Pizzas, and hamburgers. It is known for its classy chefs and polite servers and is situated in Molyko, Beirut restaurant.
It opens from Tuesdays to Sundays. Suitable for dates in any weather type and is a high-budget restaurant.😏 Beirut got you covered for whatever dating type you want, be it classy/casual quiet dates. 5000frs will get you one meal.
A beautiful restaurant with its sweet romantic candle-lighted environment, which is very serene and lovely. Has multiple dishes and is situated in Buea town, Figaro Buea which tends to be very cold at night. It is suitable for classic/casual high/low-budgeted dates. It is well secured and protected, suitable for dates in any weather condition with price ranges from 3500 FRS and above.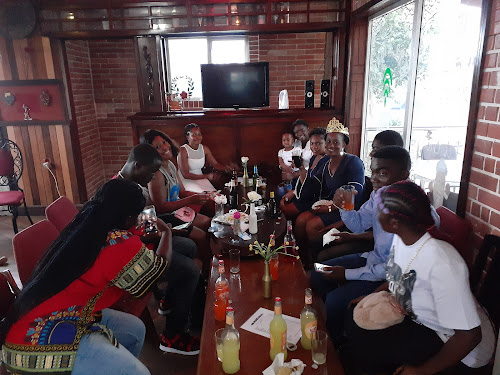 6.

Njierforbi bakery/restaurant
This is a popular bakery in Buea which also has a restaurant, situated in Malingo, Njeiforbi Complex Buea. It is known for its quality ice-cream production and has a wide variety of bakeries. It is well suited for casual and low-budgeted dates.
It may not be suitable on rainy days if your choice of sit is outside. Very busy and beautiful.😍 Has a wide variety of traditional meals like ekwang, garri/eru, and many more. Food prices ranges from 2500 FRS and above and beverages from 1000 FRS and above.Njieforbi is just the right place for your casual low-budgeted dates.
This is a well-known barbecue restaurant in Buea, which is suitable for casual outings, located in Buea, at Bakweri Town Road, 48 SPICES specializing in serving fried ripe plantains and chicken with sauce.
Opens from Tuesday to Sundays at 8:30am to 9:00pm. Suitable for low-budget boisterous casual dates.
La Cave Lounge is a wine bar and restaurant for the curious—from casual drinkers to savvy connoisseurs.  It has an obsessively curated list and a complementary food menu with price ranges from 3500frs and above.
Good enough for both casual, boisterous, and high/low budget dates, Located in Molyko, LA CAVE LOUNGE and opens every day from 1 pm till dawn.
9.

TFC tastie fries & TFC Juice bar
TFC tastie fries is a restaurant specialized in serving  tasty fried chicken with rice/fried ripe plantains and TFC juice known for its succulent juice serving of all flavors, both situated in the heart of Molyko, TFC Restaurant and suitable for low budget casual dates.
Opens from 9am to 8pm everyday from Tuesdays to Sundays. TFC tastie fries/juice got you covered.
Here you can enjoy a calm date, if you are someone who loves sight seeing then this is a great choice. 5000frs will go a long way at this beautiful sight which is situated in Buea town The Golden Jubilee Monument.
There are many other exquisite places to have a good time in Buea, here are just a few.I hope this write-up goes a long way in helping you achieve that perfect time with your partner.🤗 If you have any requests or questions, be sure to let me know on the comment section.